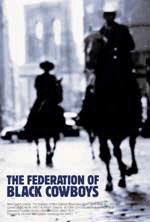 The Federation of Black Cowboys

Director: Eric Martz
TRT: 56 min

East New York, Brooklyn - the city's most notorious gangland has more than its fair share of the bad and the ugly. On this urban frontier, the good guys are The Federation of Black Cowboys. Seven days a week these modern-day wranglers can be found at the Cedar Lane Stables, fulfilling their mission to pass down the legacy of the black cowboys to inner city youth. The documentary leads us to a world on the other side of the fence where respect for life is taught through horsemanship. The stories of these cowboys - ranging from 16-year-old Mikey, whose delinquent life has been transformed through his discovery of the stables, to 90-year-old Ben, a former rodeo champion who rode with Will Rogers - reveal how the code of the West flourishes in a tough Eastern urban environment.


Release:
Reel New York/PBS 2005
Producer:
Zach Mortensen
Selina Lewis Davidson
Nancy Roth
Exec. Prod: Paige West