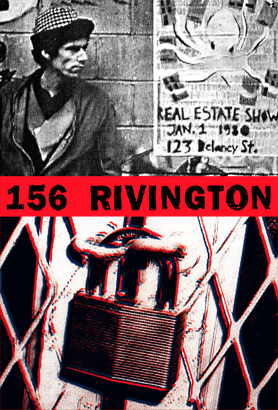 156 Rivington

Director: Andrea Meller
TRT: 56 min

156 Rivington' focuses its attention on a building in the Lower East Side of Manhattan. This particular building, also known as ABC No Rio, has, for more than 20 years, been home to an eclectic group of artists, punks, activists, anarchists and other groups mainstream America would class as "fringe."

In the 1980s, 156 Rivington was an abandoned building in New York's depressed Lower East Side (Loisaida to black and Puerto Rican residents). Angered at the way the city was embracing gentrification, several renegade artists seized the space and set up an installation called "The Real Estate Show." Though the city closed it down after a day, the action drew citywide attention. Soon, an alternative art and political organizing collective, called ABC No Rio after a dilapidated neighborhood sign that once read "Abogado Notario," was born.


Release:
The Sundance Channel - 2003
Producer:
Lisa Guidetti
Nancy Roth
Selina Lewis Davidson
Exec. Prod: Paige West