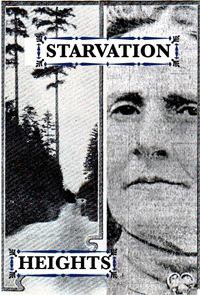 STARVATION HEIGHTS:
The Documentary
In the Fall of 1910 Claire and Dora Williamson, two wealthy British sisters traveling the Pacific Northwest, came upon an advertisement in a Seattle newspaper - "Dr. Linda B. Hazzardʻs Fasting Cure" promised great health and well-being and the perfect respite from a strenuous journey. Ardent followers of the "natural health" fads of the day, they were delighted.
In the spring of 1911 the sisters enthusiastically started the treatment, but instead of heaven, the following months turned into hell.
The sisters were isolated, deceived, manipulated, robbed of their entire estate and starved. One sisterʻs fast came to an end when she died. The other sister, narrowly escaping death, set out to prove that the good doctor was guilty of extortion and murder.
Was Dr. Linda B Hazzard a healer or serial killer? How could two well-educated, well-traveled women become her prey?
Using contemporary footage of original locations, archival photos and film, artful reenactments, actor read letters and court transcripts the film will tell the story of these three forward thinking independent women - and what went wrong.
inspired by New York Times Best Selling Author Gregg Olsenʻs book Starvation Heights: A True Story of Murder and Malice in the Woods of the Pacific Northwest.
Producer:
Selina Lewis Davidson
Writer: Beth Pacunas
Consultant: Gregg Olsen
Production Co:
GreenHouse Pictures