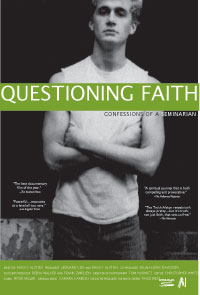 Questioning Faith

Director: Macky Alston
TRT: 84 min, 54 min

In these times, what's a young preacher to preach? After experiencing life at its most devastating, how can anyone believe in God, or anything for that matter? And what is it about human nature that leads one person to find religion in the midst of such chaos and another to lose it?

These questions, and more, are explored in the documentary film QUESTIONING FAITH: CONFESSIONS OF A SEMINARIAN. Director Macky Alston tries to discover how people find meaning in life when absolutely nothing seems to make sense. Alston turns his camera on religion in these difficult times, employing an emotionally evocative style and engaging people with a wide range of religious backgrounds and beliefs, from born-again Christians to Muslims, from atheists to Buddhists to Orthodox Jews.

At stake for Alston is whether or not he has the faith to be a minister, but for everyone in the film, the challenge is to weather the worst that life has to offer, to support each other in that context, whatever their beliefs, and to affirm life, even in the face of tragedy.
Release:
Cinemax Reel Life - 2002
Producer:
Leonard Cox

Co-Producer Selina Lewis Davidson

Exec. Prod: Paige West
The DVD will be available September 2008
please check back